Football player Kang Soo-il was once an icon of a multicultural family. Kang Soo-il, who overcame an unfavorable environment and became a professional athlete, was known as a role model for children of multicultural families. He was praised by the world. He also experienced moments of glory, such as scoring more than 10 goals in the professional league and being selected for the national team. His success story, which seemed to last forever, was swept away by successive incidents and accidents and disappeared as a mirage in an instant. He was also accompanied by a moment of disappointment that was worse than the size of the glory he had enjoyed. Even though he has returned to the professional league with efforts, he advises children not to follow in his footsteps of him. What happened to the successful 'multicultural icon'? Joongbooilbo met Kang Su-il and listened to the story of his eventful life.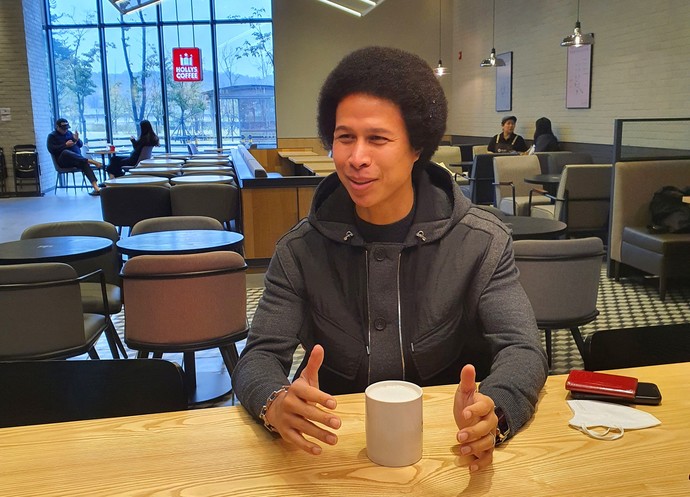 Q. I am curious about your growth process
I grew up with a single mother until 6th grade in elementary school. My family was very difficult financially. My mother made a living by doing public work provided by the city hall. We even lived in a house that shared a conventional toilet. It was a house where mice suddenly popped out while doing chores in the toilet. It's unimaginable now. My mother would go out early in the morning to do her work and return late in the evening. So I spent a lot of time alone and caused a lot of problems at that time. I once smoked and robbed on the street. I bullied my friends a lot. Even if someone looked at me, I started a fight.
Q. I heard that you were separated from your biological father and spent your childhood. Tell me the story.
My father was dispatched U.S. military. He met my mother while living in Korea. Due to the regulation of the U.S. military, my father could not continue to stay in one country. When he had to go back to America, he tried to take my mother along too. But my mother did not follow him. She was probably afraid to go to a foreign country where she could not even speak the language. So my father left for America alone. At the time, my mother was pregnant with me but she didn't tell my biological father. My father had no idea of my existence.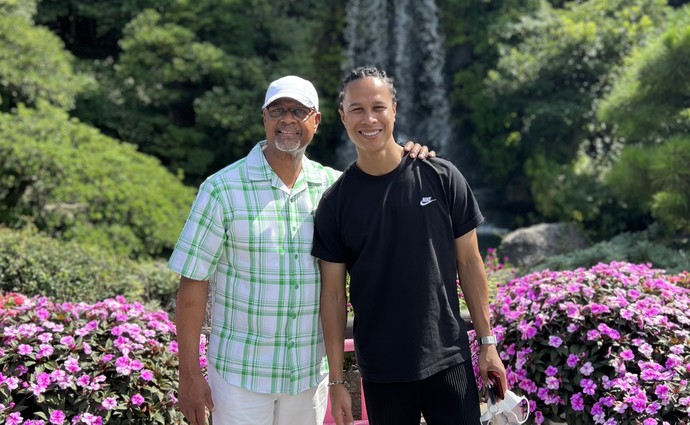 Q. I recently heard that you found your biological father through a genetic test.
When I was a kid, I despised my father. I didn't even want to talk about him. When somebody talked about my father, I normally used to curse him. I remember when my mother showed me a picture of my father but she removed all of his pictures since that time. It was when I went to pro that resentment turned into longing and gratitude. I thought that the reason I could live as a professional soccer player was because of the talent or body I inherited from my biological father. I thought I'd like to see him someday.
Then last year, a friend of mine said to me that there is a program that tests genes, and advised me to try the test. I proceeded with the test without any expectations. But a few days later, news broke that the test found my biological father in America. Pastor Young-cheol Kang, who has helped my family a lot since childhood, tried to contact my biological father through e-mail. Pastor Kang asked my biological father if he had ever served in the US military stationed in Dongducheon in the mid-80s, and said that his son in Korea was looking for him. My biological father admitted that he had stayed in Korea, However, he said that he did not have a son and requested that the genetic test be conducted again. It was a natural reaction. Because my father didn't know about my existence. So Pastor Kang sent photos of my mother, and my father only then acknowledged that I am his son and said that there was no need for a genetic retest. So I had two fathers and two mothers. My father visited Korea last year and we had a nice time together. I'm not good at English, but I'm trying to talk to my father.
Q. How was your school life?
Since I couldn't adjust well to a public school, My mother sent me to a foreign school. But I didn't do well there either. Especially in foreign schools, classes are conducted in English, but I couldn't speak English at all. I cried every morning because I didn't want to go to school. I couldn't adapt to the general school because I was of mixed race, and I couldn't adapt to the foreign school due to the language problem. I was a stranger everywhere. I always felt out of place. I just played games in the arcade. I didn't have any money, so it was a job to think about how to play the game for free. that's my life of childhood.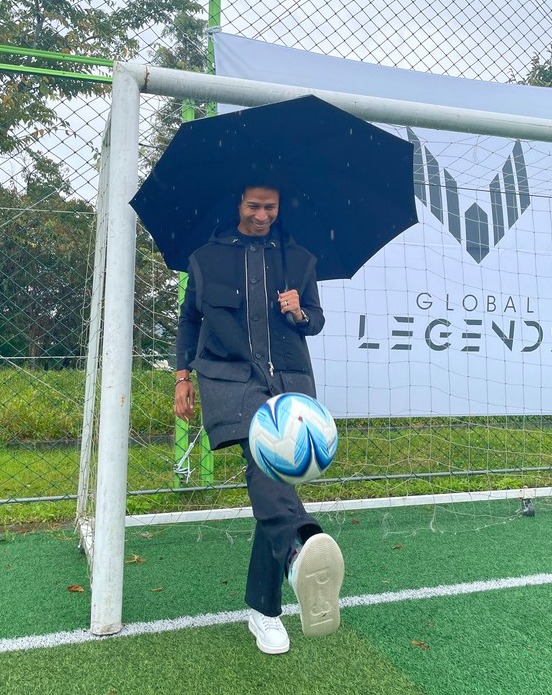 Q. How did you start playing soccer?
I was a student at Bosan Elementary School in Dongducheon. One day, I heard that a student from Dongducheon Elementary School was spreading rumors that if he fights with me, he will win. So I went to Dongducheon Elementary School to fight that friend. When we were about to fight on one side of the playground, a teacher walked towards us. The teacher scolded us and made us race instead of fighting. I later found out that the teacher was the head coach of the football team.
The coach suggested to me playing football. I wanted to do it too, but my mother was against it. Perhaps my mother was worried that she couldn't support me financially. Now or in the past, if the family wants their child to exercise, the parents need to support them financially more than general students. Nevertheless, I wanted to play soccer, so I went to Dongducheon Elementary School almost every day. After repeating that, the coach eventually convinced my mother again and again. Finally, I was able to play football. It was not easy to come up with membership dues or equipment, but the coach understood the situation in our house and helped a lot. I still appreciate him for that.
Q. Do you think you inherited the talent for sports from your father?
I had not thought like that when I was a kid. I was thinking that 'I am good because I am good at what I am doing rather than thanking someone for it. I never thought about the physical condition or talent I had inherited from my biological father until I went pro. My father was merely an object of hatred. But when I came to the pro, I realized how big I had inherited it. Either way, to be successful in the pro, athletes have to show that they are physically strong. They have to be faster and have more power. It was then that for the first time, a little bit of gratitude for my biological father began to sprout.
Q. You dropped out of college and went on to become a pro
Because I wanted to earn money, While attending university, I was given the opportunity to take a test at Incheon United. At that time. The head coach Woe-Ryong Chang and CEO Ahn Jong-bok treated me well, so I was able to sign a professional contract as an extra-designated player. I signed a contract with an annual salary of 12 million won for one year. Of course, it wasn't a lot of money, but I was happy that I could earn some money and help my mother.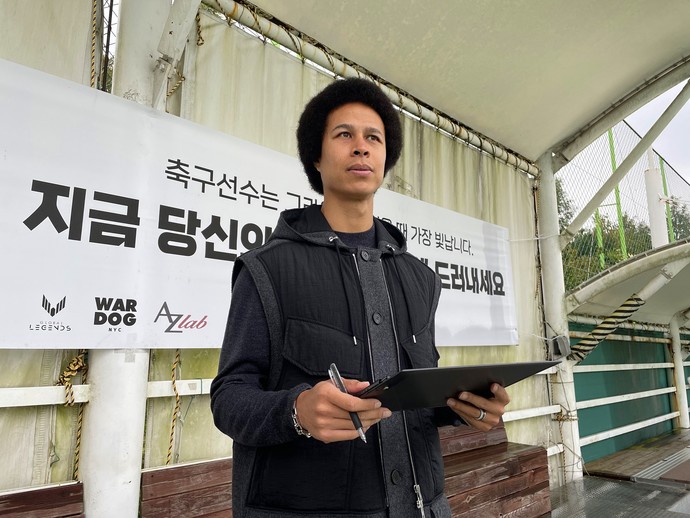 Q. As a mixed-race player from a multicultural family, you have received attention from the beginning of your professional career.
That's right. Not only in the pros, but I've been in the spotlight since I was a kid. If I did well, I received more compliments than others, and if I did not do well, I received more scolding and criticism than others. In some cases, the media and fans were interested in things other than football skills. In my early days as a professional, there was a time when I was thinking about what kind of showmanship I should show rather than improving my skills. As time passed, I realized it was important to show good performance on the field. My own strength is a breakthrough from the quick movement and instantaneous speed that penetrates into the space behind the defenders. Although I didn't score well, I was recognized as a fast and strong striker.
Q. You were selected for the national team. However, it is also the period when the career of football player Kang Su-il entered a downturn.
I was selected for the national team and was training in Malaysia. However, the doping test unexpectedly came out positive. I didn't get any injections and didn't take any drugs. It turned out that the hair growth solution that was applied to the face at the time was the cause. After that, criticism poured in. But what kind of athlete would apply hair regrowth to their face to improve his performance? It was embarrassing, but the rules were rules, so I had no choice but to accept them.
Q. I know that the punishment you received at the time was quite severe.
The first disciplinary action I received at the KPFL(Korea Professional Football League) was a 15-game suspension. However, the period of disciplinary action continued to increase as they moved up to the higher level of institution. Ultimately, FIFA imposed a two-year suspension. I made an appeal and tried to come back as soon as possible, but the result did not change.
Q. Coincidentally, you were caught drunk driving.
After being disciplined, I went through a bad patch emotionally and financially. At that time, I didn't even get a salary. I felt that ordering the designated driver is wasting money. It was an inexcusable mistake. After that, the spotlight for me disappeared and I became infinitely shabby. I was afraid to go out in front of people.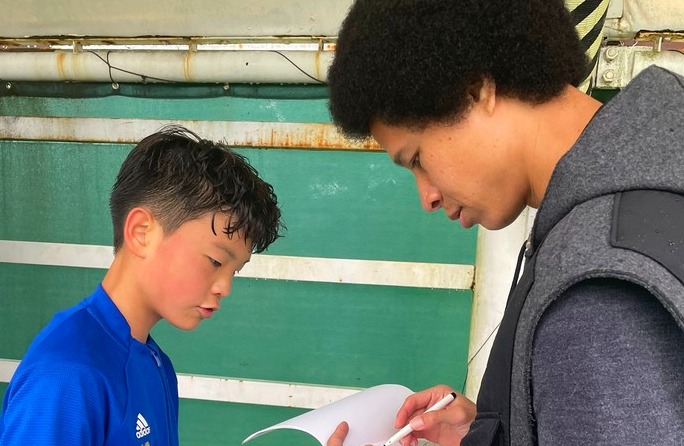 Q. What did you do to overcome the ordeal?
I just thought that I have to return to the field. Because what I love the most is football. I went to China's 6th division and played a game. In fact, China's 6th division cannot be called a professional league. Players smoked cigarettes after the game. So, with the help of the Pocheon Citizen FC, I trained with Korean players during the week and flew to China on the weekends to play games. I devoted myself to training, dreaming of the day I would return to the professional league someday.
Q. You returned to the professional league in 2017.
The person who suffered the most during the two years that I am not able to play was my mother. I think she was worried that I would give up on everything. But I was confident because I prepared hard on my own. And I proved it. I recorded more than 30 attacking points in two years after returning to the Japanese and Thai leagues. Although I fell short of the performance I had shown when being selected for the national team, my attitude as a professional toward the game is completely different from before.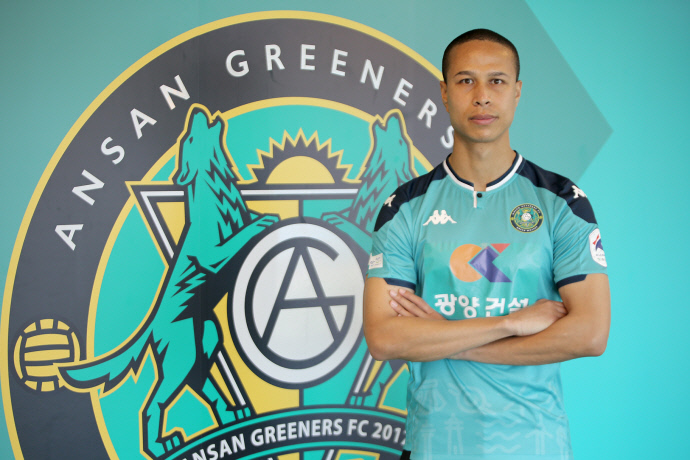 Q. You are currently affiliated with Ansan Greeners. Why did you decide to come back to K-League?
I wanted to play in Korea. I talked a lot with my former team, Jeju United. It was difficult to return to Jeju, but they helped me a lot to find other clubs to contract. In the end, I signed a contract with Ansan Greeners who reached out to me.
Q. I heard the news that you are currently injured.
I injured my knee during the game. I am currently undergoing hard rehabilitation. I will return next year and show my fans a wonderful performance.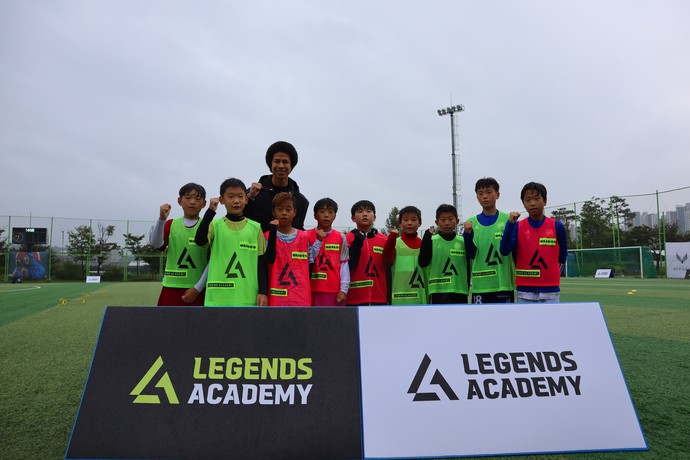 Q. Finally, is there anything you would like to say to the children of multicultural families?
Discrimination still exists in all parts of our society. But I want children from multicultural families to set their dreams and goals and work hard to make them come true. The bigger the dream, the more difficult it will be, but I believe that they will grow in the process of achieving the goal. In hindsight, I grew up in that process and received a lot of help from those around me. Now I want to give back to society what I received. In fact, until the outbreak of COVID-19, I held a football tournament every year for children from multicultural families. It was a shame that it was only a one-time event, but in the future, I plan to establish a foundation and continue volunteering.
By Seyong Lee
관련기사
저작권자 © 중부일보 - 경기·인천의 든든한 친구 무단전재 및 재배포 금지